USA, here we are
ECOSTERYL lands in the United States to treat medical waste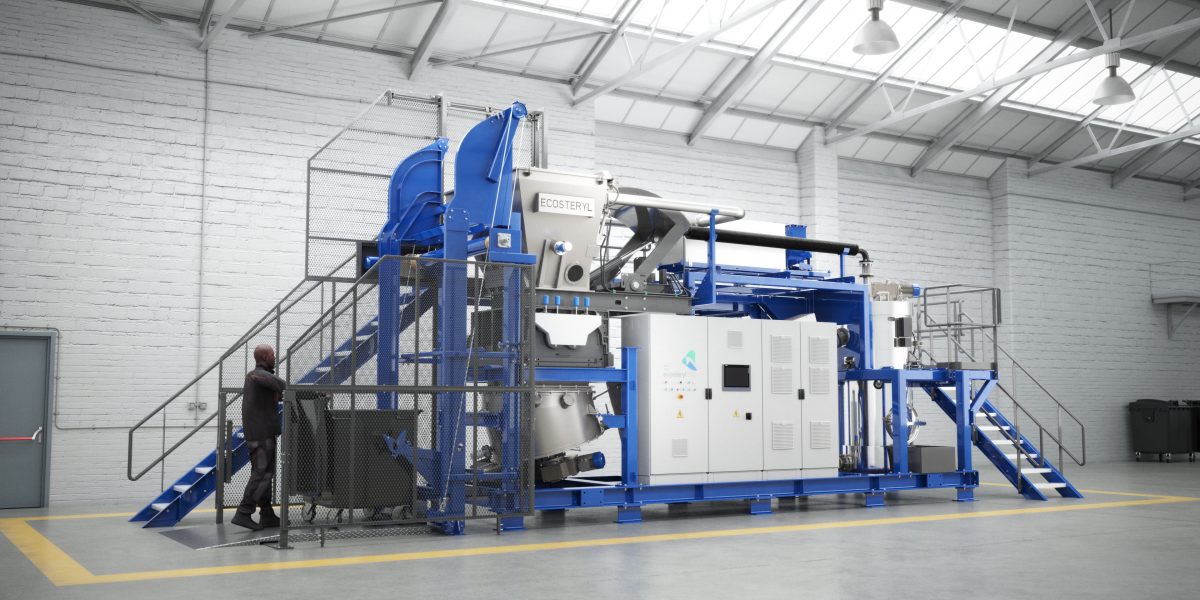 Mediwaste (www.mediwastecorp.com) chose our bestseller, the Ecosteryl 250 Machine, to treat hospital waste in Texas.
This company owned by Chris Baryla selected an eco-friendly machine to manage medical waste.
William Jewett, Business Development Manager for Mediwaste, answered some of our questions.
What is your background, how did you get into medical waste?
I have been in the medical industry for the last 16 years since leaving the military where I served for 17 years as a Navy Officer in the US Navy SEAL Teams (10 Years as SEAL Officer). I first worked in medical device sales with Stryker, working in operating rooms across the country. That is where I first started researching the medical waste industry.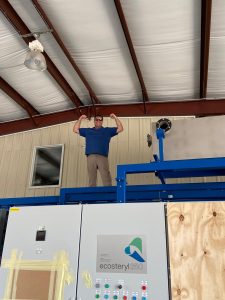 After spending long hours in operating rooms, I was curious where all the medical waste generated in surgery was going. I then founded a medical waste company in 2009 and grew it to one of the largest independent medical waste companies in the Country.
In 2021, I joined Mediwaste Disposal, HQ in Texas as their Business Development Manager. Mediwaste has autoclave treatment capability and was very excited about Ecosteryl's technology. Mediwaste is now the ONLY Company in the United States that has multiple treatment capabilities using autoclaves and Ecosteryl. They have also recently signed a LOI with a recycling company to harvest the byproduct from the Ecosteryl Unit. Mediwaste Disposal is excited to be one of the only medical waste companies providing a "Circular Economy" for medical waste.
Why did you turn to Ecosteryl?
Ever since entering the medical waste industry, I wanted to find a way to recycle medical waste. There were such valuable products – such as HDPE plastics, polypropylene, metals, single use medical devices (SUDs) – that could be "harvested" for re-use and help the environment. We just needed the technology to make this recycling process a profitable venture.
I received a "Going Green" Award in utilizing different products like "reusable" sharps containers to help the environment in the medical waste industry.  I also worked with a local artist to call attention to the medical waste being sent to our landfills. Together we used some processed medical waste for an art show and  made a park bench that was presented in the art show.
Unfortunately, in 2010 the medical waste treatment technology did not seem to support the recycling goals that we were trying to achieve. That has changed since learning about the Ecosteryl technology.
How did you find working with Ecosteryl and the steps to get the machine to arrive during the COVID-19 pandemic go?
The relationship with Ecosteryl has been outstanding from beginning to end. Our initial discussions were extremely helpful in understanding the technology, manufacturing process, history and customers' satisfaction. Due to the feedback and interaction from all levels of the company (Ownership, Managers, Techs), we were able to make a decision to move forward with the Ecosteryl technology without even doing a site visit. This was extremely helpful during this COVID epidemic.
How did the installation go?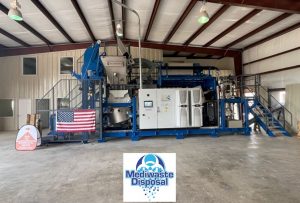 The installation of our Ecosteryl unit was flawless. Our unit was unpacked and installed in 72 hours. This is something that just can not happen when installing an autoclave. The Ecosteryl unit only uses electricity, so you do not need water, gas, boilers, sewer and major changes to existing infrastructure. It is essentially a "plug and play" system.
Furthermore, the permitting process was faster and easier due to the POSITIVE environmental effects of installing this type of technology versus autoclaves. Local government officials were very supportive due to all the positive effects on the environment. Additionally, Ecosteryl technicians are able to monitor our operations in "real time" due to the internet connectivity directly with our machine. This has been extremely valuable for operating our machine.
How is the start of production going? What changes have you observed compared to the machines you were using before?
The biggest change was the minimal manpower needed to operate an Ecosteryl unit. Our medical waste treatment facility can essentially be operated with 1 person using the Ecosteryl unit – something we were excited to see.  It is also a "continuous batch process" compared to the starting, stopping, loading, unloading process involved with autoclaves.  From a safety standpoint, it also mitigates risk to our employees.
Additionally, the ROI has even been better than projected. Our operating costs are lower and allow us to recoup our initial investment at a faster rate.
Does using a 100% electric machine influence your end customers?
Our customers and prospective customers are very excited about the environmental impacts of the Ecosteryl technology. Many of our customers are not aware of the environmental impact of current medical waste processing on our Country and environment.
Mediwaste Disposal is educating our customers about this incredible technology and environmental impact. This has been received extremely well. In the past, it has been difficult to impact the environment in the medical waste industry. Mediwaste Disposal and Ecosteryl are intent on changing that in the United States.
How do you plan to grow? What is the future?
We plan to change how medical waste is perceived in the United States. Mediwaste Disposal intends on expanding throughout the United States, highlighting this great technology. Education will be our main driver and by informing decision makers, administrators and Government officials about the capability to significantly reduce the environmental impact of medical waste by using the Ecosteryl technology, we see a bright future for Ecosteryl in the United States.
What do you think about the current laws in the US regarding the treatment of medical waste?
The current laws in the United States are very fragmented regarding medical waste. Medical waste is regulated at the State level and this obviously makes it very challenging depending on what State you are operating your business in.
Due to the Ecosteryl process of treating medical waste, it allows you to operate in the most regulated States in the Country. I also believe, due to the onset of COVID, some States may be looking at their current medical waste regulations and possibly making changes to protect the public and environment.
Do you have any advice for anyone wanting to get into the medical waste business?
Do your research and have a detailed plan. The industry is highly regulated and is often referred to as a "Cradle to Grave" industry. The generators of medical waste are responsible for their waste until it is properly disposed of.  Ecosteryl technology mitigates these risks. Generators of medical waste are looking for vendors like Mediwaste Disposal that are helping them mitigate those risks.
---
For any information about Ecosteryl, please contact us.